WHO ARE LAUTAREASCA?
WHO ARE LAUTAREASCA?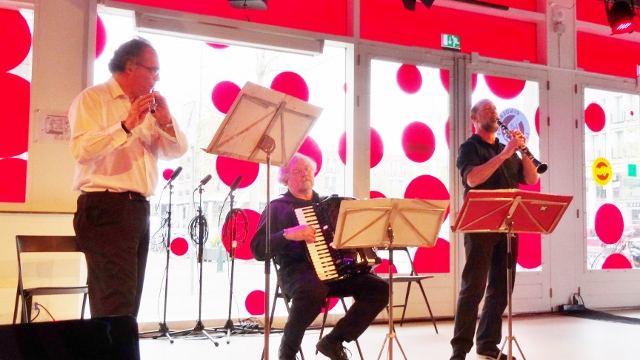 Johan Paap – Accordion
Studied accordion at the Sweelinck Conservatory in Amsterdam and graduated in 1979. He played in the Netherlands Sinfonietta, a salon orchestra and in several folk music orchestras.
He teaches accordion at the Muziekacademie Den Haag, the Muziek Collectief Bodegraven and at the Hillegomse Muziekschool.
Since 1981 he has played folkmusic (ethnic music), at first in a large orchestra, and later as a duo with Hans Witteman.
Dominy Clements – Flute
The Subcontrabass fluteStudied flute and composition at the Royal Academy of Music in London, and Composition at the Royal Conservatoire in The Hague.
He has won several prizes in composition, and his work is published by Donemus (Muziekgroep Nederland) and the Experimental Music Catalogue (EMC, U.K.).
He works as External Bookings coordinator and Career Development officer at the Royal Conservatoire, and writes reviews for MusicWeb International.
As flautist he also performs with Duo Hofinger, salon quintet Sofa and modern music trio 3-Orm, and plays subcontrabass flute in the Netherlands Flute Orchestra.
Hans Witteman – Clarinet
Studied clarinet at the Royal Conservatory in The Hague and graduated in 1983. He played in the Netherlands Sinfonietta, ensemble Oktopus, W.O.R.M. and many other ensembles.
He plays in music group "de Ereprijs", trio 3-ORM, in a chamber-orchestra, the Mesdag wind quintet, and works as a freelance musician.
He teaches clarinet and bass-clarinet at the Koorenhuis The Hague.